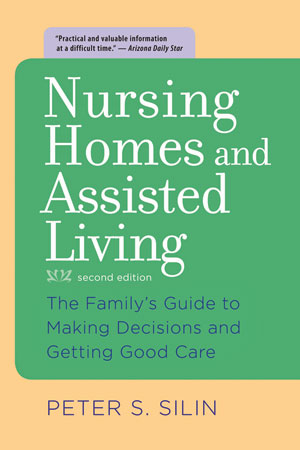 A complete guide for family members facing the practical and emotional issues that arise in seeking nursing home care and who are learning to be "the family member" of someone in a nursing home or senior's housing.
Nursing Homes and Assisted Living: The Family's guide to Making Decisions and Getting Good Care, starts where you do, with talking to your loved one about care. It helps you through the whole process, discussing how to make decisions as a family, how to find care, what good care is, how nursing homes function, how to prepare yourself and your loved one, admission day, adjustment, grief, loss, care issues, how to obtain the best possible care, communicating with the system, problem solving, visiting, and death and dying.
The book includes seventeen personal stories written by caregivers on what they went through and how they handled their process.
Peter S. Silin, MSW, RSW is a social worker and geriatric care manager in Vancouver, British Columbia. He is the principal of Diamond Geriatrics, Inc. 25 West 11th Ave. Vancouver, BC V5Y 1S6 www.diamondgeriatrics.com